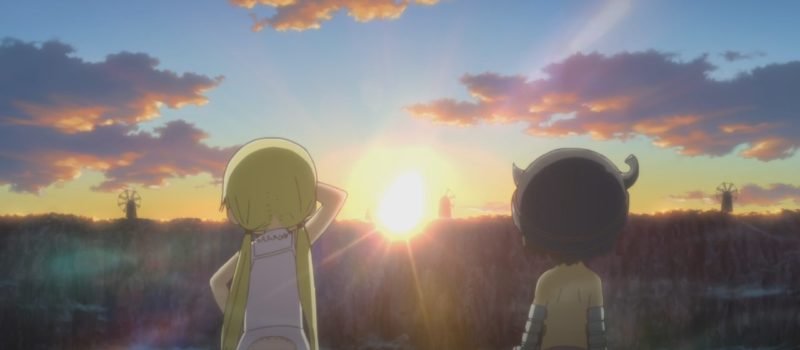 An enormous pit and cave system called the "Abyss" is the only unexplored place in the world. Strange and wonderful creatures reside in its depths, and it is full of precious relics that current humans are unable to make. The mysteries of the Abyss fascinate humans, and they head down to explore. The adventurers who venture into pit are known as "Cave Raiders." A little orphan girl named Rico lives in the town of Ōsu on the edge of the Abyss. Her dream is to become a Cave Raider like her mother and solve the mysteries of the cave system. One day, Rico starts exploring the caves and discovers a robot who resembles a human boy. – ANN
Streaming: Amazon Anime Strike
Episodes: 13
Source: Manga
Episode 1 Summary: 1900 years ago, a remote island surrounding a seemingly bottomless pit was discovered. As the world's last truly unexplored phenomenon, the "Abyss" as it came to be known beckoned explorers and relic hunters alike into its depths. Some unlucky travelers entered, never to be heard from again. Riko is the daughter of one such adventurer, and she and her friends Nat and Shiggy live at an orphanage where they and their ilk are trained in the dangerous art of cave raiding for various relics in the Abyss. Their lives are harsh and occasionally frightening, as their lot is exploited as cheap labor. One day on their first excursion without adult guidance, Riko and Nat are attacked by one of the Abyss's many terrifying creatures. Riko is saved by a mysterious and powerful shot from the hand of an unconscious robot boy. Riko is ecstatic to have found such a treasure, and drags the boy back to the orphanage. The robot can't remember his name or where he came from, so Riko assumes that he must be from deep within the Abyss, a place where incomprehensible relics are said to be ubiquitous. Though this excites her imagination, for right now all she wants to do is keep Reg (her name for her robot friend) a secret from the authorities.
Impressions: I've actually been delaying watching this episode – not because I suspected that it might be bad, but that I've been looking forward to it so much and I wanted to give myself a chance to cool down and take it in properly. As with almost anything I've ever watched, I do have a few misgivings, but besides that this has absolutely one of the most impressive first episodes I've watched so far this season.
Looks certainly aren't everything, but in this case they're one of the first things one notices once the episode starts to play. The anime wastes no time in establishing a strong sense of place. The idea of a bottomless pit is intriguing and horrifying and everything in between; As Riko and her companions descend a mere(!) 100 meters down at the outset, we're given an appropriate taste of both aspects via the background environment and the strange creatures flying through the air. The cliffsides are lush with strange flora, the sun penetrating enough to give us a look at the various plants and rock formations. As Riko uncovers an old cave system there's a palpable sense of age and mustiness as she breaks through rock walls and discovers strange objects and even old human remains dressed in unfamiliar clothing. The visuals tell a story on their own, about ancient peoples who may have lived in this strange environment and the tools that they used to survive. It also begins to raise question thus far unspoken – why did they die out, and is this an ongoing threat?
As Riko and Nat haul Reg's unconscious body up from the area that they were exploring, the visual montage of the various parts of town, precariously balanced around the empty blackness of the Abyss, is fascinating. It feels like something out of a film with a much higher budget, and there was clearly a lot of purposeful design and framing in creating the first impressions of this environment. I'm reminded a bit of Xam'd: Lost Memories, an anime with a similar kind of cinematic style and extremely distinct visual presentation and feel to it. Xam'd had a lot of very strong fantasy elements, as well as a profound undercurrent of body-horror that made for a very intriguing watch; I'm already getting the impression that this series might tend towards the same direction.
While it would be easy to be fooled (and maybe even put-off) by the cutesy character designs, there are enough clues in this first episode to indicate that this show has the potential to skew really dark. There are several offhand references to forms of punishment in which offenders are "strung-up naked" for their offenses. It's actually sort of easy to miss this since they're offhand comments spoken by Riko in a comedically frantic way when it appears as if she's about to get into trouble. I've heard online from readers of the manga that the source material has the tendency to be dark and horrifying; while my search for specifics around the web came up mostly fruitless, I don't doubt that these comments in the anime are without basis. This might be enough to give a lot of people misgivings, especially since most of the characters introduced so far are really young, and bad things happening to young people makes them seem doubly-terrible in most cases. To be blunt, I have zero desire to see any character, especially a kid get strung up naked in the town square, and if that's where this is all going it would probably be enough for me to drop it no matter how great the rest of the show might be.
What I'm hoping, though, is that the darkness of the narrative is more reliant on the terrifying unknown of what lives down the rabbit hole. It's easy to see why the Abyss would be such a tempting mystery; I think there's something romantic about an unexplored piece of the world, and it's just so easy to identify with the characters because as a viewer I'm just so curious to know what's waiting down there. It goes far beyond wanting to conquer nature or claim more land for this or that nation; knowing that there were people there once, and that they made and built and created things that still survive in some form, is almost magical in a way. The fact that one episode of the anime has the ability to create and cultivate that sense of wonder is truly an accomplishment.
Animation-wise, there are some great moments in this episode. I'll leave the specific technical commentary to the pros at Sakuga Blog, but to my untrained eye this episode is propped up both by its expressive character movement and the otherworldly-horrifying creature designs, of which the most interesting is probably the giant flying worm that nearly eats Nat and Riko during their excursion. There's something especially terrifying about it, which is effectively conveyed through the very different animation style used to bring it to life; the splotchy ill-defined nature of the beast gives the impression that it's almost too terrifying to look at and see clearly, which is fitting given the circumstances. I'm interested to see what other horrors of nature show up to give our characters trouble later on.
I haven't spoken about it yet, but I thought I might mention a little bit about the Amazon Prime/Anime Strike viewing experience, since I've read some other comments online about it. I've heard tell of some issues people have been having with ill-timed subtitles, and that hasn't been the case in my experience (it might have something to do with individual computer set ups, but that's not my area of specialty). What is kind of quirky, though, is that I had to actually turn the English subtitles on manually. I think in the case of other video services I've used, living in a primarily English-speaking region while watching material in a language other than English has meant that the subtitles would appear automatically but could be turned off. I did have a bit of an issue with video quality, which has been my experience with Amazon Video even outside their Anime Strike channel. When the video starts, the stream is initially in kind of a low quality standard-def size, which is pretty pixelated. It then takes a while (probably less than a minute, truthfully) for it to adjust to HD quality. I have pretty fast cable internet service and live close to a major city, so the reason why some services are still struggling with this (I've had this happen with Netflix as well) is somewhat irritating. Otherwise the experience isn't nearly as bad as some would make it out to be, but it's still irritating to have to pay extra to add the Anime Strike channel when I already pay for Amazon Prime in the first place.
Video service issues aside, I'm digging this series a lot based on the first episode. I love the air of mystery it's cultivated so far, and I'm anxious to find out what sort of path the story might take going forward. While I have some misgivings about just how far the violence or other horrific material might go based on the related internet chatter, for now I think I'll just hope that the anime can maintain the tone while maybe leaving some things to the imagination. I think this is going to be a really striking, unique, and satisfying ride.
Pros: The episode quickly establishes a great sense of place. There are some great visuals, from the background artwork to the character and creature animation. The setting is mysterious and intriguing.
Cons: Signs indicate dark skies ahead – including content that might be objectionable to some, especially since the characters are young.
Grade: A-