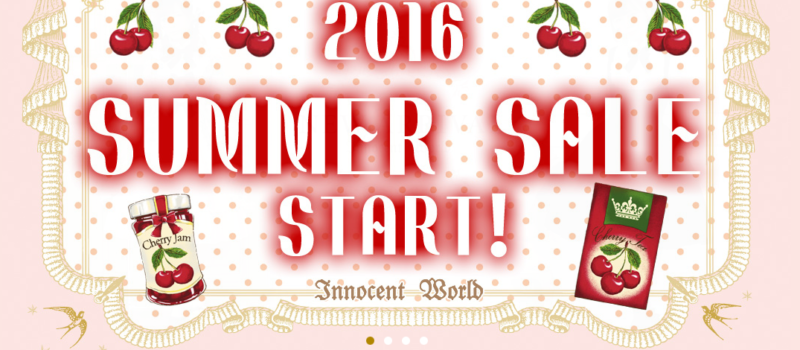 I have to admit, I've been really depressed lately. Over the past several months things have actually been really good as far as my mental health is concerned, but with a recent move, some stressful situations at work, and some very recent and wholly vexing interpersonal drama, things have been a little bit rough. Which is why the timing of these packages' arrivals was so fortuitous! It's always fun to open a present; even more so when it's a present from yourself to yourself, comprised of something that cost a lot of money and makes you feel sort of prestigious.
This will likely be my last big lolita fashion "haul" for a while. Since I'm now paying monthly rent and have spent a lot of cash recently on new furniture, a new computer, and a vacation up North, my safety cushion is close to being depleted. So what better to do than go out with a "bang" and make my last hurrah worthwhile?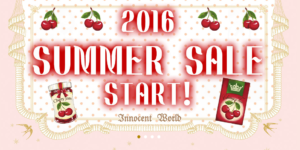 Recently I was lucky enough to get randomly selected via email for early online shopping for the Innocent World Summer Sale. I was sent a special link and a password to reach the sale page prior to it being visible publicly. I wouldn't say I'm a high-dollar shopper there, nor do I usually make frequent purchases, so I really do think the selection was pretty random. Lucky for me! I wasn't necessarily in the market for anything big, but I was hoping I'd be able to get my hands on a few more basic accessories to help fill out my wardrobe a bit and match with some of the bigger pieces that I already own. I was able to find a few things that I think will work out really well!
One thing I wanted to mention before getting started is that there was actually an item that I'd originally wanted to order, but wasn't able to get. This has happened a few times and I mostly blame the time difference between Minnesota and Japan and the delay in Innocent World being able to update their webshop with out-of-stock information. In this case, though, the situation got a little complicated and I went back-and-forth a bit with the store representative to get things worked out. This time, there was a specific pair of socks I'd wanted to order, but by the time the order was processed they were sold out. That was fine, and I emailed back with a different pair that I would like to buy instead. After several days I got another email back: they'd gotten a returned pair on the socks that I had originally wanted, and could now sell them to me. Awesome! On the other hand, the pair of wrist cuffs I had ordered only had one set in stock and that set was damaged and they didn't want to sell them to me. Boo! In the end, I kept the original socks, the replacement socks, and the other two items I'd wanted to order in the first place. I want to commend Innocent World on their willingness to look around for the items and communicate the situation. It was just kind of a silly situation to begin with.
Anyway, my sale items came to me in the smaller of the two boxes that I received recently:
Inside were the four items that I ordered – Three pairs of socks, and a set of hair clips.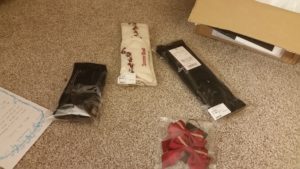 I ordered the socks to help fluff out my basic wardrobe and make coordinating with certain pieces a little bit easier. The specific socks I ordered were the "Fairy Tale Print Overknee Socks" in beige, the "Annette Embossed Overknee Socks" in Black, and the "Embossed Cross and Fleur-de-lis Overknee Socks" in Navy. The hair clips are the "Braid Twin Clips" in Red x Cafe-au-Lait (I have some similar items that are more of a wine/burgundy color, but none that are really a true red and I've got some red in my wardrobe that I need to match!). Here are the various items close-up:
The ribbon clips are fairly simple, made from a smooth single-colored ribbon and accented with a braid that's a light beige color. They fasten to your hair with alligator clips, which makes them easy to mess around with and re-position to your liking as you fiddle around with your coordinate. Sometimes I like to use items like these to add some more detail to my actual clothing, by clipping them onto my collar or the straps of a JSK, so there's some versatility in how these can be used. Having things like this around lets me be more creative when I'm putting a look together. the clips were ¥1,960 on sale (at the moment I was charged for these items, the exchange rate was approximately $1 = ¥102, so that's fairly easy mental math).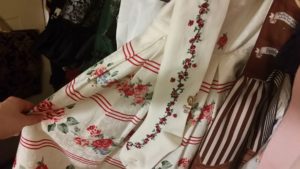 I don't like to make a habit of doing this, but I actually bought the Fairy Tale OTK's to match specifically with another Innocent World dress that I own (it's the Marine Rose re-release I got in my Innocent World Winter Happy Pack). It's good advice for participants in lolita fashion to stick to general-purpose items unless you're purchasing a full set, but screw logic! I wanted them. I wore the dress in question to a recent local meetup, but unfortunately the items didn't arrive in time (I'm pretty sure that's just a constant problem for us lolitas). It's difficult to tell from the photos, but the socks are a light cream color rather than a true beige, so they're pretty easy to match. The rose pattern has both true red and a deeper wine in it, and the leaves are a nice deep green. The IW logo on the back of the socks just above the heel is made with golden yellow and brown threads. The socks cost ¥1,750 during the sale. I took a photo of them with the dress I plan to wear them with. I think it's a fairly decent match, and obviously the pattern is general enough that I can wear them with other items, too.
The other two pairs of socks are very similar – they're dark-colored and their patterns are only really visible when worn since they are more of a lace pattern rather than a woven, multi-colored pattern:
Hopefully the patterns are visible enough in the photographs; they're quite lovely in real life. The Annette Embossed OTK's were ones I bought just to have since I don't really own a lot of nice black socks (I generally end up using lace tights which are nice, but get a little bit boring after a while). The Cross/Fleur-de-lis ones are actually navy and I got them since I've ended up owning quite a few items with navy as a main color or as an accent. I also thought they'd go nicely with my Ecailles de Lune Forest of Pipe Organ JSK, which I own in the blue colorway. The JSK has kind of a gradient between royal blue and a much darker blue, so I thought the color and the pattern would be a good match. I'll have to find an opportunity to try it out!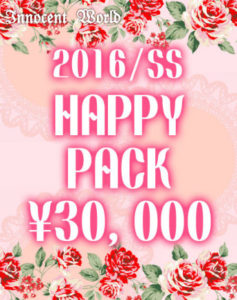 As the title of this post would suggest, I also purchased Innocent World's Summer Happy Pack in the Large size (this time they offered the pack in Large and Medium sizes). I feel pretty safe purchasing the large size since my measurements have been pretty constant over the past six months and I'm familiar with the brand's sizing. The only thing I might worry about are blouses, but I own several Large Innocent World blouses at this point and they all fit well (especially if I wear a minimizing bra).
This is the third Innocent World lucky pack that I've purchased, and I think I've had pretty good luck with them. I feel obligated to mention, though, that the things they include generally are pretty random, comprised of items that likely didn't sell well or items in strange colors that might be difficult to match. I've watched some YouTube videos from other lolitas who end up disappointed by what they receive since it's not a fully-coordinated outfit like you might get from an Angelic Pretty special set or something of that nature. I kind of enjoy getting stuff like that because I consider it kind of a coordination challenge for myself, and it's allowed me to branch out into areas of the fashion that I might otherwise not. When I was starting out in lolita fashion, I was convinced that I should stick to muted colors like brown and beige and keep my wardrobe very same-same so that I could use the same kind of blouses and accessories. While I think that can be good advice (and it would definitely have saved me some money), I think ultimately I'm happy that I have a lot of different things going on in my closet. It's a little more fun for me to have all sorts of different things to choose from, and I'm starting to be able to dress more seasonally or appropriate to the location where I'm going, so it's nice.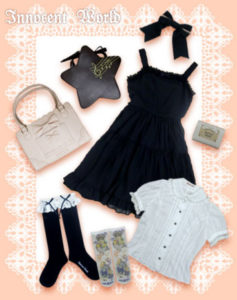 To the left is the sample image provided for what "might" be in the happy pack (I bought the smallest one, the ¥30,000 version). I've never been lucky enough in the past to end up with any bags, which is kind of a bummer since I really like the look of brand bags. I have some Taobao design replica ones which are functional and look cute, but just as a lot of people I know are are really into Fossil or Coach or Michael Kors designer bags, so too do I long to own genuine lolita brand purses (I do have a Metamorphose pochette that I use quite a bit, but that's the only one).
…Until now!!!
What amuses me actually is that, aside from a couple of very minor differences, I received almost exactly the items pictures in the sample image. I didn't receive the crew socks or that particular head bow, and the dress I got is a different color, but besides that it's all there. I did a little happy dance since my brand bag dreams have now come true, and both the bags are in colors that will be pretty easy to match. I'm still on the lookout for a bag in red, and also one in black (why I don't own a single black bag is beyond me, it's just worked out that way).
I was a bit worried at first since this lucky pack came in a huge freaking box, but the box itself wasn't heavy at all. As it turned out, the bags were packaged without smooshing them, so they needed a lot of travel room.
As you can see, there was some room to breathe in there.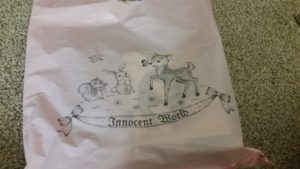 The pink plastic shopping bag on the right contained the smaller items (by the way, as long as they're in good condition, I usually keep these shopping bags and have amassed quite the little collection in my lolita closet – they're nice and sturdy for carrying stuff around, especially if your in a place where you wouldn't want an actual bag/purse to get dirty or wet!). One of the items was a postcard set with illustrations from the brand's Ellen Clapsaddle series. Ellen Clapsaddle was a prolific illustrator from the late 1800's to the early 1900's, and was famous for her greeting cards. I'd say her style definitely fits with Innocent World's general aesthetic. These postcards feature cherubic youngsters (I was tempted to write "creepy babies," but they're not that creepy, haha) in cute costumes and situations. I'm not much of a postcard person, so I might see if there's some way I can frame these and hang them on the wall.
The package also contained an "Innocent World Charm Clip" in a wine color:
It's a grosgrain ribbon with a small braided accent. It has a tiny Innocent World logo ornament sewn onto one side, and has an alligator clip on the back. I was pretty stoked to get this because I have another one that's literally exactly like it, and it's nice to be able to wear two of something if you want some symmetry. Buuuut… the color is actually ever-so-slightly more purple-y than my other one. It's actually so subtle that I think it might be the fault of different dye lots, but I notice it. So I'm still undecided as to whether I can get away with wearing them both together. Not a big deal, though!
Next is a pair of the "Torchon Lace Knee Socks" in black and white:
I actually own another pair of these in the same colorway, so I wasn't super excited about having another one. They are a nice basic thing to have, though, and they're so inexpensive (I think they're like ¥300 on sale right now) that it wouldn't bother me to give them away to a happy home at some point. If I'm ever cool and famous enough to do a giveaway, maybe I can throw it in there.
The last item in the accessories bag was a very cute little "Ribbon Biscuit Short Wallet":
I actually just transferred all of my stuff to a new wallet, but the fabric on the outside stains if you look at it funny so I wouldn't be opposed to switching again. Especially since this one is so cute! It's a little difficult to tell because of the lighting, but the wallet is a light dusty pink color with a light brown biscuit-shaped accent with the brand logo printed on it. There are tiny little bow cut-out accents along the bottom, and there's a nice scallop motif. It's made from a synthetic faux-leather material with cloth on the inside. There's room for banknotes and there's a small coin purse, as well as slots for cards and other small items. The only thing I don't like is that I like to have a clear pocket for my driver's license (because otherwise I have trouble finding it, lol) and this doesn't have that. But besides that I like it a lot!
So next is the awesome part. I received not one, but two purses! And they're full sized ones, not the smaller pochette style. The First one I received (well, the one that was closer to the top of the box, anyway) was the "Scallop Pocket Bag" in pink:
The bag is very roomy. Like the wallet, it's a dusty light pink color. It's constructed from a faux leather material. On the front there are two bows and an outside pocket that would be a good place to put a small smart phone, MP3 player, or bus pass for easy access. The zipper pulls have little hearts on them (there are two, making it easy to zip open and closed from multiple angles). The inside lining of the bag is black, and there are pockets inside that seem sized to fit a cell phone and some pens, and there's also a zipper pocket inside. The size of the bag itself is such that I'm pretty sure you could fit a netbook or tablet inside if that's what you needed to carry around. There are no shoulder straps, which for me is a bit of a bummer since I usually like to carry my bags cross-body for security reasons, but the handles are large enough that I was able to slide the bag up to my shoulder, which is almost as good (and it makes it a bit easier to switch from side-to-side which is honestly better for my back).
The other bag I received was the "Starry Keynote Embroidered Bag" in chocolate:
I'm glad that I got this in the chocolate color rather than the gold color, since I already have a gold-colored star-shaped handbag and don't need another one, lol. As you can see from the photograph, the bag part is sandwiched between two larger star-shaped panels. There is a G-clef with musical notes and staff embroidered in gold thread on one of the panels (the other side is blank). This bag also has two heart-shaped zipper pulls, and the inside pockets of the bag are the same. This bag has two handles which are adjustable (they are like belt buckles and can be lengthened). The shape of this bag makes it less-conducive to holding really large items, but there's still a ton of room inside and it's definitely a functional purse.
In lucky packs past I've usually gotten more apparel-type items. This time there were only two, but they're both very nice and quite versatile!
First I received a short-sleeved white blouse. I'm guessing that this was made specifically for the Happy Packs, because I can't find an exact match. But it's very similar (minus a few details) to this "Flat Collar Antique Rose" blouse.
It's constructed from a very light, almost sheer cotton material, making it really breathable and great for Summer. The buttons are rose-shaped with an antiqued look to them. There is lace around the collar and at the sleeve openings, and there are pintuck details along the front. The blouse is very comfortable and I'm so glad I now have a short-sleeved white blouse with this type of collar, since I'll be able to wear it with a lot of different things this summer.
The other item I received was a very simple wine-colored chiffon JSK. Again, I think this was likely made specifically for the Happy Packs since I couldn't find any other info on it:
The design may be simple, but I really like this piece. The dress constructed of materials in a matching deep red color. The top of the bodice features some cute rose lace detailing and a small satin ribbon at the center. There are detachable waist ties made of the same sort of chiffon material as the dress. There is full back shirring which fits nice and snugly and should be comfortable for a  wide range of sizes. The bodice itself isn't lined in the back, but the front of the bodice is lined and the skirt portion is lined as well. The skirt has two tiersThere is no zipper on the dress, so in order to fit you have to be able to get the waist portion over your head (or over your butt, depending on how you try to put it on I guess. I tend to go up from the bottom). I would informally equate the amount of stretch to what Innocent World tends to have on their shirred OPs, but please don't quote me on that. If I can get a helper to help me get a flat measurement at some point, I'll post an update. In any case, I have a bust of around 90cm and a waist of around 70cm, and I have room to spare and could get in and out of the dress fairly easily by myself.
I decided to put a couple of the items on and try them out. Sorry for my un-styled hair, this was after 11pm and I should have been in bed already (oops!).
I'm wearing the Fairy Tale OTK's, the short-sleeved blouse, the scallop purse, and the logo charm hair clip. Not the best, but the best I could come up with at the time without pulling extra stuff out of the closet!
Have you made any big purchases lately? Anyone else out there order this Happy Pack? Let me know in the comments, and thanks for reading!