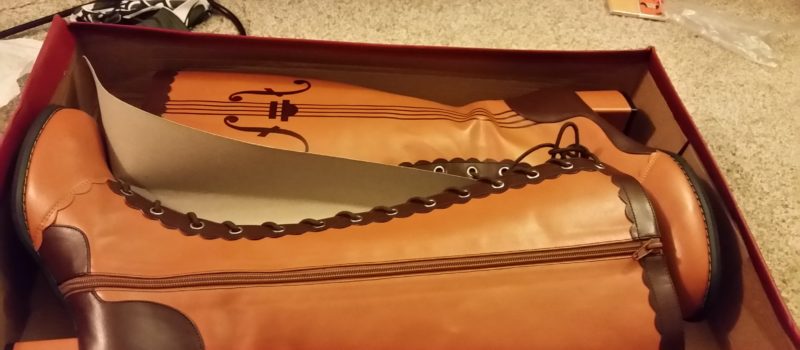 Obligatory disclaimer – this is a review of items I purchased with my own hard-earned money. I did not receive incentive or compensation from the company to write this review (not that anyone would honestly consider that a possibility, but still…)
I've somehow amassed quite a few violin-related Lolita Fashion items over the last couple of years. Two Innocent World violin dresses, a couple of violin-themed bags… one would probably think that I have some experience playing the violin. The joke's on you all, I've never even touched a violin. I would have no idea what to even do with it. But I find violin motifs strangely appealing for some reason. At some point in the past, I noticed that Bodyline was planning to release a pair of boots with a violin-inspired design (it was the winner in one of their clothing design contests). I thought that sounded pretty awesome, but as the days went by and the boots didn't show up on their website, I kind of forgot about it.
Because I often get a lot of my basics from Bodyline (especially shoes… I have large feet and just can't cram them into brand shoes no matter how hard I might wish to do so), I generally poke around the website every couple of months to see if anything new has been added. Lo and behold… violin boots! And they weren't expensive! I tossed them into my cart and a couple of days later, they arrived at my doorstep.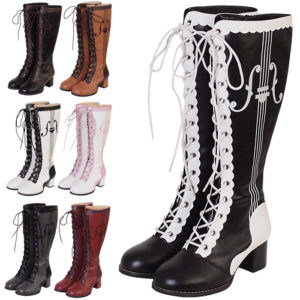 The boots come in several different colorways, the majority of which seem to skew more towards classic lolita styling. I purchased the "brw-dbrw" (or "Brown and Dark Brown" as translated from Bodyline's color language) since I thought those would be most likely to match with other items in my wardrobe. I do also like the wine colorway, though, and if I had more items to match I might have gone for that one instead.
They're available in sizes up to 260, which is what Bodyline calls 26cm (which is more standard that mm in Japan, at least judging by what I've seen while online shopping) and which roughly equates to a US women's size 10 and a UK size 42. Some shoes on Bodyline's site go up to size 270, but not these, unfortunately.
The price listed for these boots is $39.99, which doesn't include shipping, so keep that in mind – EMS Shipping cost $13.80 at the time I purchased the boots. If you prefer to utilize Bodyline's airmail option it will likely be cheaper, but then you'll be poised to wait at least a month and I didn't feel like doing that, partly because I'm wary of the postal system as it is (a dress of mine got lost in the mail one time, it was a huge bummer). As it stood, I got the boots in less than a week, not taking into account the amount of time it took me to be able to make it to my apartment's office hours to pick it up (I understand why they'd want to be open regular business hours like any other regular business, but since I work those same hours and also have a bus commute it doesn't work out very well for me a lot of the time.
The package arrived inside of the standard gray shipping plastic. The boots were shipped in their shoebox, which had gotten a little bit mooshed up in transit (not unexpected, it had a long way to travel). Sometimes Taobao shopping services will offer to ship your shoes sans the shoe box to save a little bit on shipping costs, but Bodyline doesn't have this option, so just be aware that you'll end up with a shoe box that's probably going to be pretty useless by the time it gets to you. The boots arrived with plenty of packaging inside the foot portion to keep from getting mangled. They were in good condition when I opened them up, with no wrinkles, smudges, scuffs, scrapes or flaws.
The color in the stock photograph seems to be pretty accurate for these boots; the primary portion of the details are a nice warm tan color, while the accent color is a deeper coffee brown. The violin details are printed on the body of the boot, and there are few visible printing flaws (at least until you get up very, very close, and I think they fall within the realm of acceptability). The material is a faux-leather like Bodyline's other shoes, and definitely has a distinctly plastic-y feeling and smell to it. It's also not particularly thick, but this gives leg portion some needed flexibility. There are some very cute scallop details along the length of the laces and around the toe of the boot, as well as along the top. The lace holes have eyelets/grommets and the boot laces included are long enough to allow for some loosening if the wearer has thicker calves. There is a size zipper for easy on/off.
One thing to note (and this is true of all Bodyline shoes that I own), is that the sole of the shoe has about zero cushioning or support, so if you're like me with feet that tend to get sore pretty quickly and which need some arch support, you'll have to invest in some decent insoles. Aside from that, the heel is at a really nice height and feels sturdy. I don't wear heeled shoes very often, so I prefer the type of wider heels that these boots have – they keep me from feeling like I could topple over at any moment.
The toe box is roomy like a lot of Bodyline shoes (and lolita shoes in general). I own a pair of their heeled oxfords (model number S272, they don't appear to sell them anymore) and those have kind of a pinch-y toe (they've gained the nickname "those stupid shoes" because I wore them to a con where I ended up having to walk a whole lot and my feet were in bad shape in short order), but these strike a good balance between the elegance of a less-boxy toe area and keeping enough room in there so my toes don't get mangled.
I put these boots on straight out of the box without making any adjustments to the tightness of the lacing, but there are a few centimeters of give if you're larger than I am. In the photos below I'm wearing crew socks but nothing that goes too far past my ankle. If I were wearing tights or some of the OTK's that I have, I might have to play around with the fit a little bit. Oh, and I totally didn't just put on some frilly Innocent World shorts for the pictures, there's totally a full coord going on up above my waist (spoiler: I was wearing an old T-shirt. Fight me). Also, we'll pretend that those are patterns in the carpet, and not little fuzzy gifts from my very shedding long haired cat that haven't yet been vacuumed.
The Verdict: I really like these boots, and definitely think they're worth the very nominal price they're charging. I'd been looking around for a pair of taller lolita boots, and these I think will make a really great addition to my wardrobe.
Edited to Add: Attitude Lolita has a video unboxing/review of these up at her channel. Check it out for some more information on the boots (she ordered the gray ones).