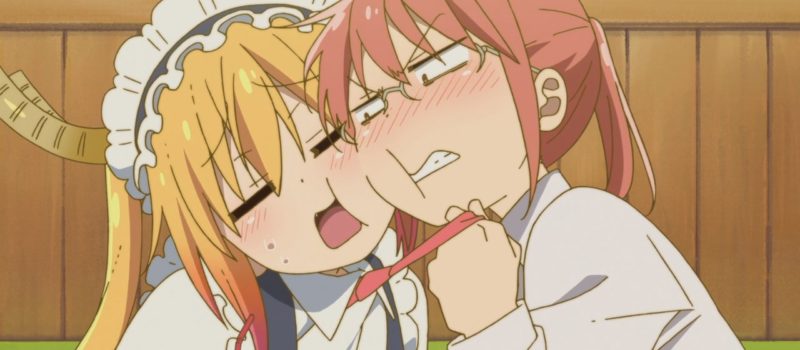 Miss Kobayashi is your average office worker who lives a boring life, alone in her small apartment–until she saves the life of a female dragon in distress. The dragon, named Tohru, has the ability to magically transform into an adorable human girl (albeit with horns and a long tail), who will do anything to pay off her debt of gratitude, whether Miss Kobayashi likes it or not. – ANN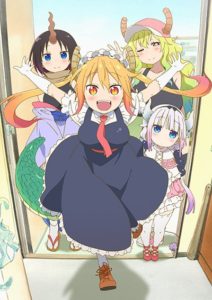 Streaming at: Crunchyroll
Number of Episodes: TBA
Source: Manga
Summary of Episode 1: After a barely-remembered evening of drunken debauchery, Kobayashi-san finds herself in the strange situation of opening her front door and finding a dragon waiting for her. The dragon, named Tohru, takes the form of a lovely young woman, and has become hopelessly infatuated with Kobayashi, for reasons that are not immediately apparent. Tohru also claims that Kobayashi offered to share her home with her; though Kobayashi doesn't really remember much about what she may or may not have said or done that night, she eventually breaks down and lets Tohru stay, especially since she promises to make herself useful around the house. The problem is, however, that Tohru doesn't know a whole lot about what being human entails, and her ideas of being a house maid are often way off the mark. It may be more work than it's worth to keep Tohru around, but Kobayashi-san finds herself warming up to her unwanted house guest bit-by-bit.
Impressions: Content warning for what could be interpreted as non-consensual removal of one character's clothing by another character.
Continuing with my unintentional theme today is another series focused on monster girls, in this case dragons and other mythological beasts. At first glance, this anime appears to be much more straightforward in its comedic intentions, but there's enough going on that I feel like there might be much more worth talking about than may be immediately apparent.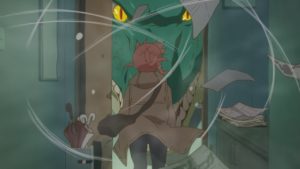 What I think is worth mentioning first of all is that, while this episode is definitely "funny" and I can see the humor in it, it's not really what I would call "funny ha-ha." I'm admittedly very particular when it comes to anime-style humor and I tend to disagree with the majority about what works and what doesn't, so my saying that I didn't really laugh much throughout this first episode isn't necessarily an indictment of the series' success in that regard. I do think that that the show works to subvert expectations in such a way that it's entertaining even if it isn't exactly laugh-out-loud entertaining. I think one of my favorite sequences (and one that's pretty easy to find if you go looking) occurs when Kobayashi-san tries to outline for Tohru just exactly what a maid's duties are, and Tohru's dragon nature takes over and twists them to fit within her inherent skill set as a mythological beast. For example, a house maid does the laundry for her master – luckily Tohru's saliva is perfect for removing stains from clothing. Other examples are similarly gross and vaguely horrifying, keeping the episode from devolving into complete saccharine mayhem, which is a nice surprise.
What's helpful in creating the atmosphere is Tohru's characterization, which is incredibly earnest. She's someone who's not really familiar with human cultural conventions and doesn't really care to follow them, so she wears her heart on her sleeve and tries to emphasize doing what she thinks is right. She shows up on Kobayashi's doorstep because Kobayashi (albeit while drunk) invited her to stay over, and this act of kindness so struck her heart that she fell in love with the human woman (she claims that it's "sexual love" but I think that might be an oversimplification). She wants to do right by her host, it's just that she doesn't always know how to keep her natural inclinations under control. There's also a sense that she's fairly lonely and just needs a little company. I find that overbearing and willfully obtuse characters normally tend to push my buttons a little bit, but Tohru tends to skirt the line humorously without crossing it. It's a balance that not many anime are able to strike.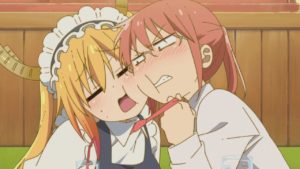 Likewise, Kobayashi is pretty unique as far as protagonists are concerned. What struck me as unusual right off the bat is that Kobayashi-san isn't exactly a typical "working woman" type character. She's not depicted as an "OL" (an "Office Lady" – a woman employed at a company in a low-grade position making copies and bringing people tea, the assumption being that she'll likely leave as soon as she gets married), and appears to have actual job responsibilities as some sort of software engineer. She also dresses in a masculine manner, which is not exactly unusual where I'm from, but seems to be less common when it comes to anime, which is based so strongly on visual symbols and shorthand. He work acquaintance, Makoto, describes Kobayashi as "one of the guys" which is a concept that I have a lot of problems with, the main one being the assumption that some men have trouble being friends with a woman unless the woman in question sheds every bit of their femininity. However, I think the intention was to demonstrate how Kobayashi isn't focused on presenting herself as typically feminine (and instead admires it from outside via her interest in Victorian era maids), and I do find it heartening that there is an anime airing that features a less-common gender presentation and doesn't make a big joke of it. There are a lot of things that could have gone wrong in that sense, so it's nice to see it mostly done right.
This does kind of beg the question, though – how are we as the audience supposed to interpret the relationship between Tohru and Kobayashi? I could pretty easily see it as a romantic one, since Tohru has essentially confessed her true feelings already. Kobayashi seems mostly uninterested thus far, though. I'm at one time kind of bummed out that in episode 1 we are already kind of dancing around the issue, having the character share a bed, showing a little bit of nudity, essentially planting the seed of something that could easily blossom into a romantic or even just sexual entanglement between two women, but I'm also wary of most "Yuri" series since so many are primarily fetish fodder for straight cisgender males. It's not that I think that audience shouldn't be catered-to, but there's already plenty out there, and I'd love to see a cute same-sex romance that exists without those particular caveats.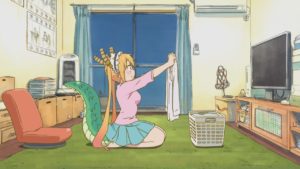 It bears mentioning that there was an iffy moment in this episode involving nudity and consent. There's a scene where Kobayashi and Makoto are getting drunk at a restaurant, and in her inebriated state Kobayashi starts to get angry that Tohru isn't behaving much like an actual maid (obviously problematic, since Kobayashi is a maid otaku after all). There's a lengthy sidebar about maid cosplay versus lolita fashion (I actually enjoyed this part, for reasons that should be obvious to those who know of my side hobbies) and how Tohru's chosen form is closer to otaku cosplay than to the uniforms of actual Victorian maids, which are what Kobayashi is more interested in. Kobayashi forcefully removes Tohru's clothes at this point. There are arguments to be made about what's really happening here, I suppose (didn't Tohru say that her "clothing" was really her scales, magically shape-shifted?) and Tohru doesn't seem to be particularly perturbed by the nudity (moreso by potentially making Kobayashi angry with her), but the scene felt mean-spirited and out-of-place in a show that's otherwise pretty cute and upbeat. It wasn't a deal-breaker for me, but I think it could be for others, so beware if that description is off-putting. It remains to be seen whether there is more of that type of material to come.
On the upside, I do appreciate that there's a little bit of variety in the character designs – Tohru in particular is slightly more plump than a typical anime protagonist (probably not "real life" plump, but I'll take even slight variety when I can find it). I also like how Kyoto Animation went a bit more Nichijou with the character designs and general visual presentation for this series. Believe me, I love the light blooms and perennial sunset lighting of series like Hyouka and Sound! Euphonium, but I also appreciate bright colors and simplified roundness, too. I think it fits the more comedic atmosphere really well. Speaking of Kyoto Animation, I think it bears mentioning that, while this series doesn't look like it'll end up being some crazy animation powerhouse like some of their other series, it still looks very nice, with a lot of fine details that might not be flashy, but add to the overall richness. I'll be excited when more characters show up so I can get a chance to see how they move and what their color palettes are like.
It's a good time to be a fan of cute monster girls, since there are plenty to go around this season. Even if this series never goes on to strike me as laugh-out-loud funny, I still think it has potential as a vehicle for a quirky relationship between a couple of mismatched characters. Tohru is a likable and earnest lead, and Kobayashi-san has her charms as well. I'll remain hopeful that it keeps its less savory elements in check.
Pros: Kind of a fun twist on the core relationship, being between two women. The character designs are varied and cute. There's a lot of quirky humor.
Cons: Kobayashi's drunken non-consensual removal of Tohru's clothes was gross and out-of-place.
Grade: B